West Fargo Preschool and Childcare Center
Experienced Teachers
Play Based Education
Ages 6 weeks to 6 years
Infant Care & Preschool – Full Time Care for Your Little One!
There are lots of ways ABCDino Academy can serve your family. We accept children 6 weeks to 6 years old. Quality childcare for your little one has never been more convenient!
At ABCDino Academy, the fun starts the minute your child comes through the door. We provide a flexible, secure, fun environment and our staff take extra care with supportive contact at drop-off until your child is ready to make some new friends. Our aim is for your child to have fun with our engaging curriculum, helping them feel relaxed and secure in our environment is the best way to achieve that goal. You can register online via our parent portal.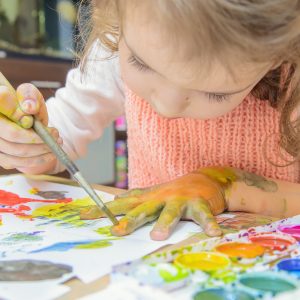 ABCDino Academy Preschool delivers a curriculum that brings out the best in your child. Our program is structured into short sessions throughout the day that allow your child to get the most out of every learning opportunity, without the risk of boredom. There is also ample time for unstructured play built into the curriculum to foster creativity, problem solving, self-regulation, and independence.
From One of Our Parents
"We love ABCDino Academy so much! Our son enjoys going there, he's obviously well cared for, and he's learning new skills at an amazing pace. They're easy to work with, kind, and genuinely care for the kids. He brings home cute art projects all the time and I really appreciate the app that posts photos and their activities throughout the day along with diaper changes, snacks, and naps. It feels like they're part of our "team" for our son. 'We're so grateful to have found this place!"
Tri-Cities
1215 Thayer Dr.
Richland, WA
Monday-Friday
7:30am-5:30pm
Tri-Cities
814 Comstock
Richland, WA
Monday-Friday
7:30am-5:30pm
West Fargo
833 24th Ave. E
West Fargo, ND
701.532.0534
Monday-Friday
6:00am-6:00pm
Belgrade
1550 Amsterdam Rd.
Belgrade, MT
406-924-6150
Monday-Friday
7:30am-5:30pm
Bozeman
205 N 11th Ave (Enter off Main St.)
Bozeman, MT
406.624.6224
Monday-Friday
7:30am-5:30pm
Keeping your little Dino happy & healthy is our priority.
Every day we evaluate children entering our centers with our Daily Health Check. Our teachers are so great at it, you may not even notice.